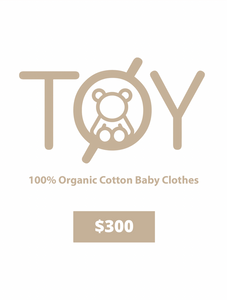 Someone you care about is expecting a baby and you need a thoughtful baby shower gift idea?
The sweet little baby in your life was just born, but you have no idea what the best baby present would be or which items to choose?
Or, maybe that adorable little one was already born a while ago (wait, how many months ago was that?), but this is the first time you'll see her/him and you're looking for a great baby gift idea without having to ask the parents any questions?
No matter the situation, we've got your back! Give the baby parents in your life the gift of choice with a TØY $300 Gift Card. It's the perfect solution, because it shows the parents that you care about them and their baby by choosing an organic baby gift from a brand that puts parents' and their baby's comfort and needs first. Plus, they'll be able to pick and choose baby clothing items they actually need, rather than receive something they might already have gotten enough of.
All TØY baby clothes are made with certified 100% organic cotton, which is one of the safest and most comfortable fabrics for babies due to their extremely sensitive skin. In addition, all our clothes are designed to be functional (less hassle with the clothing, more time for the fun baby stuff!) and gender-neutral (perfect for both baby boy gifts and baby girl gifts), so what are you waiting for?
Looking for something else? You can choose a $50 gift card and $100 gift card as well!